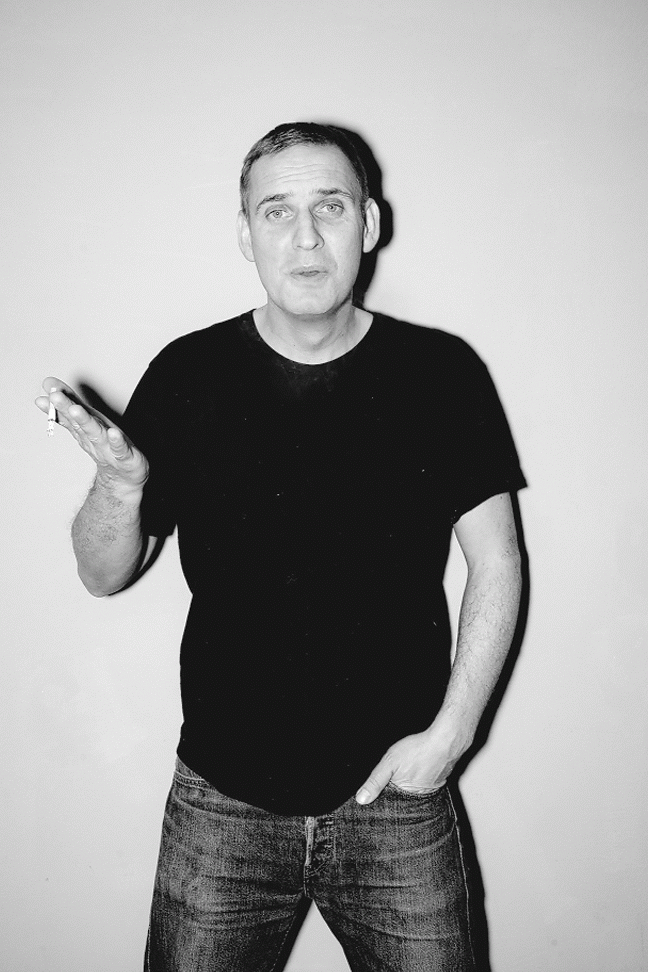 zeitmaschine is
a chronicle of the
early techno
years, showcasing
people bringing this
time to life, exhibiting
the fashion, the
lifestyle and the artists.
The photographer and Berlin resident Tilman Brembs has been living in the capital for over 36 years and has been following the cultural and subcultural development of Berlin for just as long.
Tilman Brembs: Artist, chronicler, contemporary witness. The photographer Tilman Brembs catapults the viewer into Berlin's 90s Techno scene. The 90s Techno scene: Parties in disused buildings, dark cellars and empty vaults. After the fall of the Berlin wall, the city became one big creative-laboratory where anything seemed possible. This unique social climate created an ideal breeding ground for the burgeoning techno culture, in which everybody could find their niche, from photographers and musicians to poets, painters and ravers. It was like a Big Bang of freedom with techno providing the perfect soundtrack. The city, which had been divided for so long, finally came together through music and united people who had lived in different worlds for such a long time. Tilman Brembs came to play a part in this new subculture. As the ,,house photographer of "Frontpage" magazine, he was already known within the scene and helped to influence it's development. While others merely took pictures, Brembs immersed himself within the scene. He dived into the world of techno and became an integral part of it. As a result of this direct involvement, his work generates a strong sense of intimacy and familiarity. His photographs tell stories about moments of ecstasy and complete freedom. His work is subsequently extremely influential and memorable to it's audience, posing the question of the before and after.
But they are much more than just pictures, they are unique historical documents. Fragments giving insights into one of the last big youth movements, only made possible because of collapsing walls and an enormous desire for freedom and tolerance. Without any sign of nostalgia, Brembs portrays a scene that no longer exists, but was a highly significant part of the German reunification period. This shows the cultural and historical relevance and timelessness of his photography. Even if they only reflect a small part of history, images make up the parts of a larger mosaic.
His photography contains more than 10.000 analog pictures from 1991-1997, which are now on display at the 'No Photos on the Dance Floor Exhibition,' until the 30th November. Furthermore, his recently published photo book 'Over Rainbows,' contains around 180 photographs from the early days of techno.
Can be obtained at: www.zeitmaschine.org/produkt/over-rainbows-book
His Facebook page zeitmaschine has more than 10k fans and is growing steadily. You can follow zeitmaschine.analog.rave on instagram.
Exhibitions
2020 London | From Kraftwerk to The Chemical Brothers | The Design Museum
2019 Berlin | No Photos on the Dance Floor! | C/O Berlin
2019 Venedig | zeitmaschine | La Biennale di Venezia
2019 Paris | The Electro exhibition | Philharmonie de Paris
2018 Sao Paulo | DESFRONTEIRIZAÇÃO
2018 Monpellier | zeitmaschine | Festival Dernier Cri
2016 Berlin | zeitmaschine | Fenster 61
2015 London | After the Fall | Red Gallery
2014 Hong Kong | zeitmaschine | Goethe Institut
2010 Berlin | zeitmaschine + party | Horst Kreuzberg
2009 Berlin | zeitmaschine + party | Tresor Berlin